Page 7 - AnnualReport2014
P. 7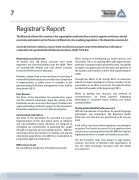 Registrar's Report
The Manitoba Dental Association is the organization authorized by statute to register and license dental assistants and dentists in the Province of Manitoba. Our enabling legislation is The Dental Association Act.
Currently we license dentists, register intra-oral dental assistants and review dental nurse therapists' credentialswhograduatedfromWascanaInstitute (SIAST1975-88).
Registration and Licensure
44 dentists and 150 dental assistants were newly registered and licensed/certified with the MDA. There are currently 692 dentists and 1267 dental assistants licensed in the Province of Manitoba.
Members adapted well to the new forms for licensing. A review of the public registry occurred this year. Completion of improvements to public access to members in the pharmacological behaviour management rosters shall be introduced in 2015.
Peer Review
The Chair of the Committee has provided her report and the statistical information about the activity of the Committee can be accessed in that report. The Board has approved funding additional support for the Complaints Committee volunteers to assist in their investigation.
Continuing Competence
The Chair of the Committee has provided her report. Implementation of the new bylaw, terms of reference and sub-committee review structures are designed to strengthen our commitments to protecting the public through an objective and accountable process. With the increasing interest by members to develop and present educational programmes, the MDA has standardized its programme approval mechanisms.
Office Assessment
Ms. Linda Berg is the Director of Facility Assessments.
Efforts continue on developing our system, process and documents. This is an ongoing effort with improvements to the pre-visit questionnaire planned for 2015. I would like to express my appreciation for the input and patience of the auditors and members in these early implementation stages.
Through the efforts of Dr. Amarjit Rihal, an interactive website has been developed to inform members of the expectations in an office assessment. The website will be available to the public at the beginning of 2015.
Efforts to develop new resources and methods of communications are being planned. Integrating technology to streamline report drafting and reduce current timelines
The Regulated Health Professions Act
With the introduction of regulations for speech language pathologists and audiologists, The Regulated Health Professions Act (The Act) was proclaimed on 01 January 2014.
It will still be some time before regulations are developed to replace The Dental Association Act, but significant time and resources are being directed by the MDA to make the regulatory transition as simple and seamless as possible.
The first transition steps have begun to align bylaws, activities and terms of reference with expectations of The Act while remaining consistent with The Dental Association Act.